Did you know that in the Valencian Community we have natural paradises such as Fuentes del Algar? In this post we will tell you more about this natural area located in Callosa d'en Sarrià, a town in Alicante between Benidorm and Altea. What are you waiting for to visit the Fuentes del Algar? Do not miss it!
Authentic oasis in the province of Alicante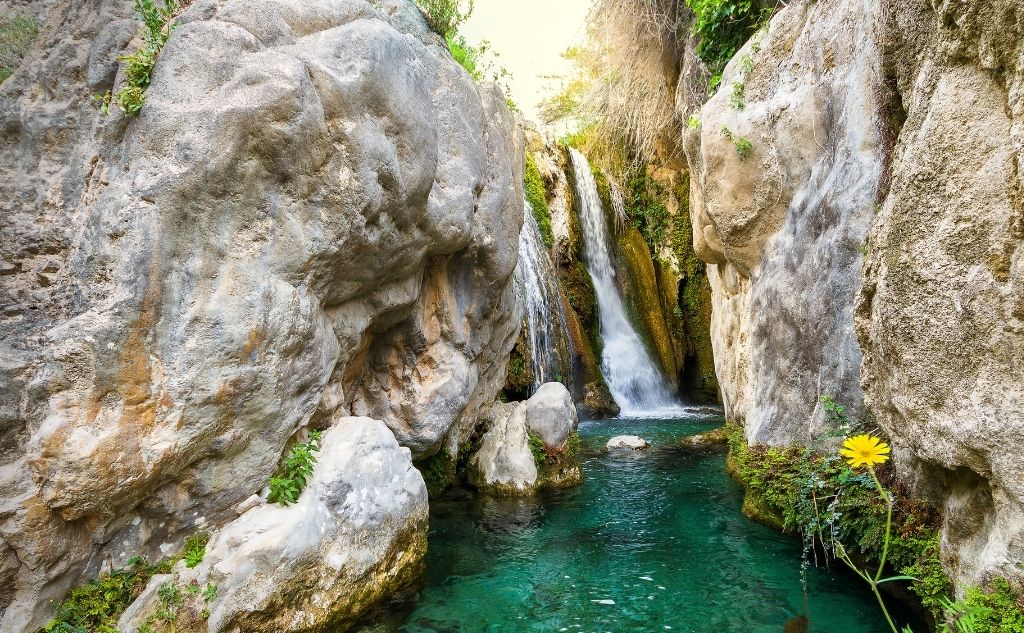 This spectacular source of water arises from the Ferrer and Bernia mountain ranges and its waters have supplied irrigation ditches and mills in the area since medieval times.
It was not until the 50s when this place became popular and its first tourists began to arrive, accessing it on donkeys! This being the means of tourist transport par excellence in those times.
This nature reserve has waterfalls, trails, natural pools and a picnic area. The main attraction of this place is to travel its 1.5 kilometers in length along the riverbed of the Algar river, discovering its characteristic limestone rock landscape through the spectacular waterfalls, the springs that flow from the rock where you can cool off between its crystal clear and pure waters. Amazing!
How to get to this natural place?
The Algar Waterfalls are located about 15 km from Benidorm and 3 km from the urban center of Callosa d'en Sarrià. This place of indisputable beauty constitutes a natural setting that has managed to conserve its environment. It stands out for its ecological wealth and has, in turn, tourist services and environmental education.
This place can be accessed from different points such as Alicante, Benidorm or Valencia. The common exit that should be taken would be the CV-70 towards La Nucía, Polop and then turn off towards the Callosa d'en Sarrià CV-715 road.
Getting to the Fuentes del Algar is very simple since the route is very well signposted. There's no way to get lost!
A paradise open all year!
This nature reserve is open every day of the year. There are different visiting shifts that go from 09:00 in the morning to 14:00 in the afternoon and from 14:00 to 19:00 to preserve their surroundings and control their capacity.
To access this place it is necessary to purchase a ticket that ranges from € 3 to € 5, with special prices for children, groups, retirees or students. This small amount helps to preserve the place.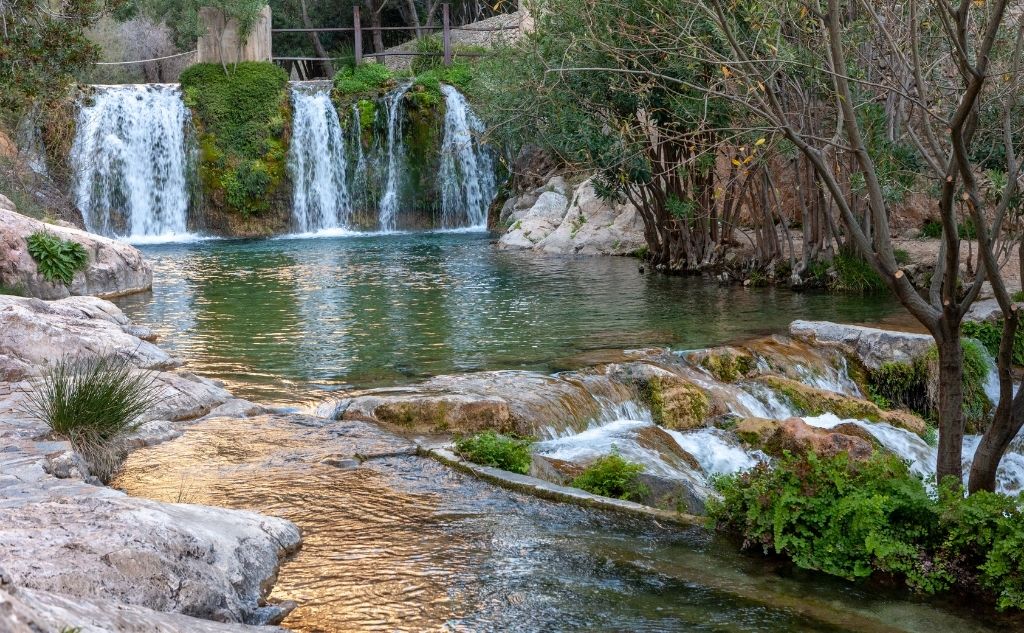 As a recommendation, we suggest you visit them in low season, when their influx of visitors is less. At this time it is possible to spend the day on an excursion or hiking route and discover its springs and waterfalls. There are green areas with picnic areas where you can take your food, enjoy the scenery and have a good picnic.
If you are one of those who prefers to take a bath, prepare your swimsuit and go in high season, although it is usually more crowded, it is possible to be calm due to the capacity that is established. Bathing in its waterfalls and natural pools is totally allowed and is very refreshing. Ready for the dip?
An encalve very complete
This natural enclave has everything you need to spend a pleasant day and enjoy with family or friends. Some of the services that you can find during your visit are:
Tourist office. If you need more information about the place, where to eat or what to visit in addition to the Fuentes del Algar, do not hesitate to stop by the tourist office. They will be delighted to assist you!
Parking area. In the surroundings of the fountains there are several private parking lots or enclosures that are part of a restaurant in the area that are usually paid. However, a few minutes walk from the place there is a free enclosure next to the tourist office available to any visitor to be able to park the car with total security. Run they fly!
Public toilets. Throughout this natural setting you can find several points with services to refresh or wash after bathing..
Picnic zone. If your intention is to spend the day, the picnic areas are the perfect place to eat and rest in the fresh air surrounded by nature.
First aid. There is a first aid post to help anyone who needs it. Hopefully that's not necessary when you visit.
Arboretum. Just before departure there is a large botanical garden where up to 200 native plants of the province of Alicante have been planted. A pleasant journey for our senses!
Playground and Dino Park. The Fuentes del Algar are designed for the whole family, but especially for the smallest of the house. This enclosure has a small play area and a fun theme park called Dino Park that has dozens of different life-size dinosaurs. The little ones will be speechless!
Restaurants. You can enjoy a good homemade and Mediterranean food in any of the five restaurants that are located at the entrance of this natural park.
Due to the pandemic, a series of additional rules have been established to guarantee the common good. Among them is the use of a mask, maintain a safe distance, do not lie down and drive on the right in one direction only. Not too much to ask, is it?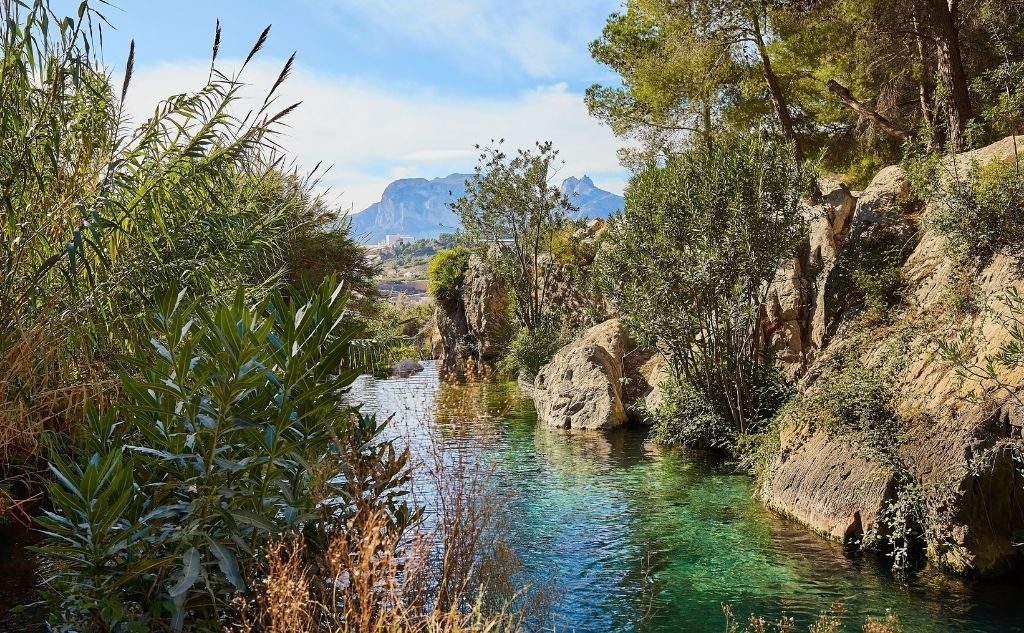 Now that you know this incredible natural enclave in the province of Alicante. When do you plan to visit the famous Fuentes del Algar?