To all our loyal customers,
Our thoughts and prayers go out to everyone who is affected by the current circumstances. And We, the Hotel Presidente family, want to thank you for your continued support and understanding in this unprecedented time.
As concerns over COVID-19 increase, our team has arrived at the most difficult moment we have ever had to navigate since opening our doors 49 years ago.
Due to expansion of infection of COVID-19 (Coronavirus), for the safety and health of guests and employees, and After much deliberation, We have had to make one of the most difficult and painful decisions… we announce that we have decided to temporarily close our hotel until April 2021.
In addition we would like to apologize for any inconvenience caused by this decision. We look forward to resuming business as usual very soon. While observing the evolving situation, we hope to make decisions prioritizing the safety and health of our guests and employees. We look forward to your kind cooperation.
Hoping that this crisis will soon have an end, we pray for everyone's health.
For any information related to bookings management please contact with our booking department through our contact email reservas@hotelesbenidorm.com or calling +34 96 683 18 22 and we will kindly assist you.
Nightlife on Quarantine
Our bars are the soul of our company, and form a very important part of it, but at the moment due to health recommendations and security measures, we do not see fit to continue its activity. Because the safety of our clients and team is always ahead.
We appreciate your understanding,
And we will give you updates soon!
Morgan Tavern team.
e appreciate your understanding,
And we will give you updates soon!
Morgan Tavern team.
Benicaldea closes temporarily
The Ambassador Hotel is going to carry out a comprehensive reform of its facilities and will not reopen until the summer of 2021, which means a temporary closure of Benicaldea. For all those bonuses or treatments already acquired, our Benicaldea team is at your disposal and we study each case in a personalized way. You can contact us through our email Benicaldea@hotelesbenidorm.com
We apologize for the inconveniences
We hope to see you again soon!

Tourism Covid-19 Protocol On
The Hotel Presidente has been recognized with the Tourism Covid-19 Protocol On seal of Hosbec for complying with prevention and security measures. Being a company committed to the instructions of the health authorities and reference guides, because the trust of our customers is the most important thing for us.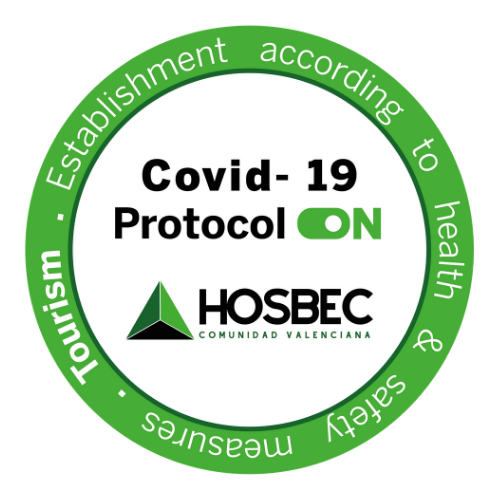 These are the measures adopted by our company according to department:
RECEPTION
Disinfecting carpets at the entrance.
Informative screens with the measures that the client must comply with during his stay.
Installation of thermographic cameras for temperature control and queue management.
Automatic gel dispensers for disinfecting your hands.
Use of mobile application so that the client can check-in online.
Access to the room with the mobile phone through an app
Vinyl markers on the floor and partitions on the counters to ensure the correct social distance
RESTORATION:
Capacity control system through cameras and informative screens
Automatic hydroalcoholic gel dispensers at the entrance for mandatory use both at the entrance and at the exit.
Redistribution of tables to respect the distance of 2 meters
Cleaning and disinfection of tables and chairs before being used again.
Buffet assisted by our buffetiers and with partitions to increase security.
Longer hours to provide the best service with more security
Room and buffet staff equipped with hygienic masks and gloves.
ROOMS
Cleaning and sanitizing carried out with disinfectant products accepted by the Department of Health Housekeepers will not access rooms with customers inside.
Linens and towels. Washing treatment at a temperature above 60ºc.
Delivery of bagged towels and removal of used clothing in sealed bags.
Rotation in the use of the rooms with an interval of 3 days after the departure of the clients.
Removal of elements difficult to guarantee disinfection.
PUBLIC AREAS
High frequency in the disinfection and cleaning of common areas, surfaces and furniture, reinforcing the areas and areas of greatest traffic such as elevators and corridors.
Automatic gel dispensers for disinfecting your hands.
Capacity control in these areas by cameras and show the capacity level in real time so as not to exceed the limit
Lifts with technology that facilitates their use without touching the keypads.
POOL AREAS:
We doubled the pH and chlorine controls.
Continuous purification circuits for 24 hours with 10% daily water renewal (marked by law)
Keep chlorine at the highest levels within the limits established by the standard.
The frequency of cleaning and disinfection of peripheral facilities will be every hour in the SPA and 2 hours in the pool
Hammocks 2 m apart and disinfection after use.
PUBS:
Reduction and control of gauging in these areas by cameras and showing the capacity level in real time so as not to exceed the limit
Cleaning and disinfection of tables and chairs before being used again.
Check the menu directly at the bar or through a QR code.
Vinyl markers on the floor to respect the safe distance of 2m.
Encourage the payment of drinks through cards.
MAINTENANCE:
Cleaning and disinfection of air conditioning units both rooms and common areas and increasing the frequency of cleaning air filters.
Increased air renewal rate avoiding internal recirculation.
Daily checking and recording of dishwasher and washing machine temperatures to ensure maximum disinfection
OUR STAFF:
The staff receives continuous training on the new protocols, with a permanent update in the new scenario in order to ensure the well-being of our guests.
IMPORTANT NOTE: THE MEASURES IN THIS DOCUMENT ARE SUBJECT TO POSSIBLE CHANGES DEPENDING ON THE EVOLUTION TOWARDS NEW SCENARIOS AND THE INCORPORATION OF NEW REGULATIONS.
YOUR SAFETY IS OUR COMMITMENT
Benidorm starts tomorrow 15th June 2020 the phase 3 of the de-escalation.
this is what we are able to do from now;
definitive end of time slots for the entire population
obligation to wear a mask on public roads, outdoor spaces and in any closed space for public use or open to the public, provided that it is not possible to maintain a safety distance of at least two meters
meetings allowed up to 20 people
all seats are allowed to be used in public transport (bus, subway or train) in which passengers must be seated and if they are standing, a separation of 2 meters must be guaranteed
weddings in open or closed spaces if they do not exceed 75% of the capacity and always with a maximum of 150 people outdoors or 75 indoors.
return from sports competitions
50% open the common areas of hotels and tourist accommodation
Cultural activities in libraries and museums are allowed. Libraries allow room study if they do not exceed 50% of their capacity and the safety distance between users can be maintained.
congresses with up to 80 attendees
wakes for up to 50 people outdoors and for up to 25 indoors
places of worship will remain open if they do not exceed 75% of their capacity
TRAVELING IN PHASE 3 OF DESCALADA
It will be allowed to move freely through the three provinces of the Valencian Community. Travel to other regions may only be carried out for health, professional or work reasons, to attend and / or care for elderly, dependent or disabled people, causes of force majeure or need.
The Generalitat intends to allow tourist connections with the Balearic Islands and with the provinces bordering the Valencian Community, even though they belong to other autonomous regions.
BARS AND RESTAURANTS PHASE 3
Bars and restaurants retrieve the bar as long as a minimum safety distance of two meters between users is guaranteed.
The terraces extend their capacity to 75% and table services remain at 50%, preferably with prior reservation.
SHOPS AND SHOPPING CENTERS
They open the common and leisure areas of shopping malls to 40% of their capacity, while stores limit the entry of customers to 50%. Retailers or stores (outside shopping centers) also limit their capacity to 50%.
A priority schedule must be established to care for people over 65 years of age.
The markets will limit the stalls in half and it will be ensured that users keep the minimum safety distance from each other.
LEISURE
Theaters, theaters, auditoriums, circuses and shows open with pre-assigned seats and without exceeding 50% of the capacity. Zoos and aquariums are once again operating with 50% of their capacity.
Nightclubs and nightclubs reopen, although with a third of their capacity and without a dance floor. It is also recommended that they enable itineraries to avoid crowds and contact between clients.
Opening of swings and playgrounds on public roads
Active tourism outings or excursions in groups of up to 30 people and, in case of bringing a guide, of up to 20 people are allowed.
Casinos, gambling and recreational rooms open to 50% of their capacity, although the tokens and / or cards used must be sanitized every two hours.
SPORT
Sports competitions return and swimming pools and sports centers may be used at 30% of their capacity.
Dear Customer
In accordance with the regulations approved in Spain (Royal Decree 463/2020) for the management of the health crisis situation caused by COVID-19 and with the aim of protecting the health of our guests, collaborators and workers, our Hotels Riviera Beachotel, Hotel Presidente and Hotel Ambassador Playa I&II will remain closed for the duration of this state of alarm.
Hoteles Benidorm will offer our customers the possibility to modify or cancel their reservation free of charge. (*Only applicable to bookings between March and April. Expandable period as the state of alarm varies or is prolonged).
If you have booked with an agency, online travel agency or tour operator, you must manage it directly with them.
If you have made a reservation directly with us via email or phone, you can cancel or modify it without any problem by contacting us directly at reservas@hotelesbenidorm.com
If you have made a reservation with flexible rate through our official website, and you wish to cancel, as long as you are within the cancellation period, i.e. 7 days before arrival, you can do so without problem from the confirmation of your reservation that arrives on your email or directly on our website www.hotelesbenidorm.com
If you have made a reservation with flexible rate through our official website, and you wish to cancel, if you are outside the cancellation period, i.e. less than 7 days before arrival, you must contact our reservations department at the mail indicated above.
We are aware of the inconvenience involved in us taking these measures, but the situation requires us to take a responsible approach in order to protect you and our staff working in our Hotel chain. We deeply regret this situation and we wish you all lots of good health and strength during these difficult times.

We hope to return to be operating as per normal soon, so that you can enjoy a well-deserved holiday in the near future.